ArtScience Museum has launched a brand new exhibition, All Possible Paths: Richard Feynman's Curious Life. The exhibition marks the centenary and remarkable achievements of Nobel Laureate, Richard Feynman. All Possible Paths is curated and produced by ArtScience Museum and will run till 3 March 2019.
One of the most influential physicists of the 20th century, Feynman was known for his work in quantum mechanics – the basis of modern physics. His achievements laid the grounds for modern science and many technological advances such as lasers and global positioning systems (GPS). Feynman was also known as the "Great Explainer" with his creative approach to problem solving, unconventional perspective, and his ability to synthesise and explain complex scientific knowledge.
The exhibition underscores Feynman's curious nature and creative thinking which drove him to explore many possibilities in life, including art and music. Visitors will have the opportunity to get to know Feynman through a collection of over 70 personal letters, papers, artefacts, photographs, his famous bongo drums, and his original paintings. It is the first time that this collection is exhibited outside of the United States.
On top of an educational journey, a ton of unique photo-opportunities await you at the exhibition too! Here are the highlights!
1) wave is my nature by ::vtol::
::vtol:: aka Dmitry Morozov is a trans-disciplinary artist and researcher based in Moscow. His contribution to the exhibition, wave is my nature, involving the use of sound and robotics, is a manifestation of Feynman's theory, Quantum Electrodynamics. The LED strips in this installation move in wave-like patterns, creating unique 'light paths' in space, demonstrating the movement of particles as they take 'all possible paths' while moving from one point to another.
Once you're done appreciating the installation, play with the low light and silhouettes. You'll be surprised by the interesting and unique photos your create!
2) Quantum by Jun Ong
Co-commissioned by ArtScience Museum and the Centre for Quantum Technologies, Quantum is a responsive laser light installation inspired by quantum computing. Quantum is set in a pitch black room and was created by Jun Ong, a Kuala Lumpur-based light artist.
Smokey and exciting, we found this installation exceptionally great for Instastories and Boomerangs to pique the curiosity of your social media followers.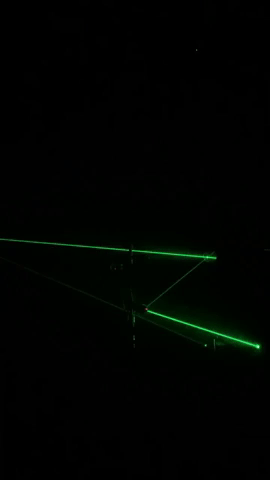 3) Quark IV by Eiji Sumi
Quark IV is an enthralling mixed media installation created by Eiji Sumi, a Japanese artist based in Bangkok. Suspended in air, the light reflecting off particles in Quark IV creates both controlled and unpredictable patterns of movement. It also echoes the scientific exploration that led to the understanding of the proton's structure. Perhaps this is how Feynman first imagined the internal structure of the proton?
Quark IV was our personal favourite Instagram spot of the exhibition. With the endless combination of angles and colours to play with, we were more than satisfied with hundreds of intriguing photos and Boomerangs to choose from.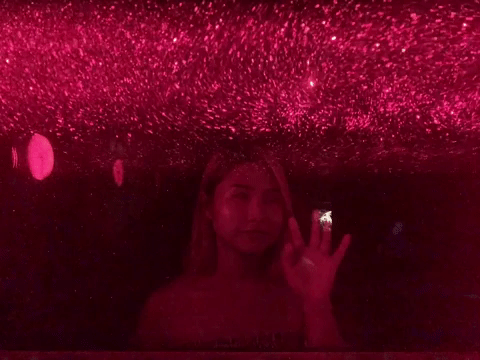 4) All Possible Paths: A Curious Life Gallery
The first section of the All Possible Paths: Richard Feynman's Curious Life exhibition provides a fascinating insight into Feynman's world and his quirkiness through 72 unique artefacts. This includes personal letters, family photographs, his bongos, his own paintings, and a recreation of the van he used to drive.
Let your imagination run wild and you'll never run out of photo-opportunities here. Be inspired by Feynman's unorthodox research methods and creative thinking – it's time to step out of the box and take some unconventional yet equally aesthetic photos!
ArtScience Museum All Possible Paths: Richard Feynman's Curious Life
Date: 20 October 2018 – 3 March 2019
Time: 10 am – 7 pm daily
Ticket prices:
Singapore residents
$12 (adult)
$8 (senior citizen, student, children 2 – 12 years old)
$32 (family package of 2 adults and 2 children)
Standard tickets
$15 (adult)
$10 (senior citizen, student, children 2 – 12 years old)
$40 (family package of 2 adults and 2 children)
For more information on the All Possible Paths: Richard Feynman's Curious Life exhibition, be sure to check out ArtScience Museum's website.
Let us know if there are any events or things to do that you think should be featured. Follow us on Facebook and Instagram and tell us which event you're going to attend! Download the free app here. #bescenesg
If you're an organiser and want us to check out your event/ workshop, drop us a line at hi@bescene.sg