You might be thinking of holing up at home and texting all your friends with something like "Sorry can't hang – have a headache." because you're either broke from Christmas shopping or maybe your New Year's resolution was to spend less. Instead of pinching pennies and neglecting your social life, fret not! Here are 15 things to do for $15 or less per pax.
1) Soak up the sun at Sentosa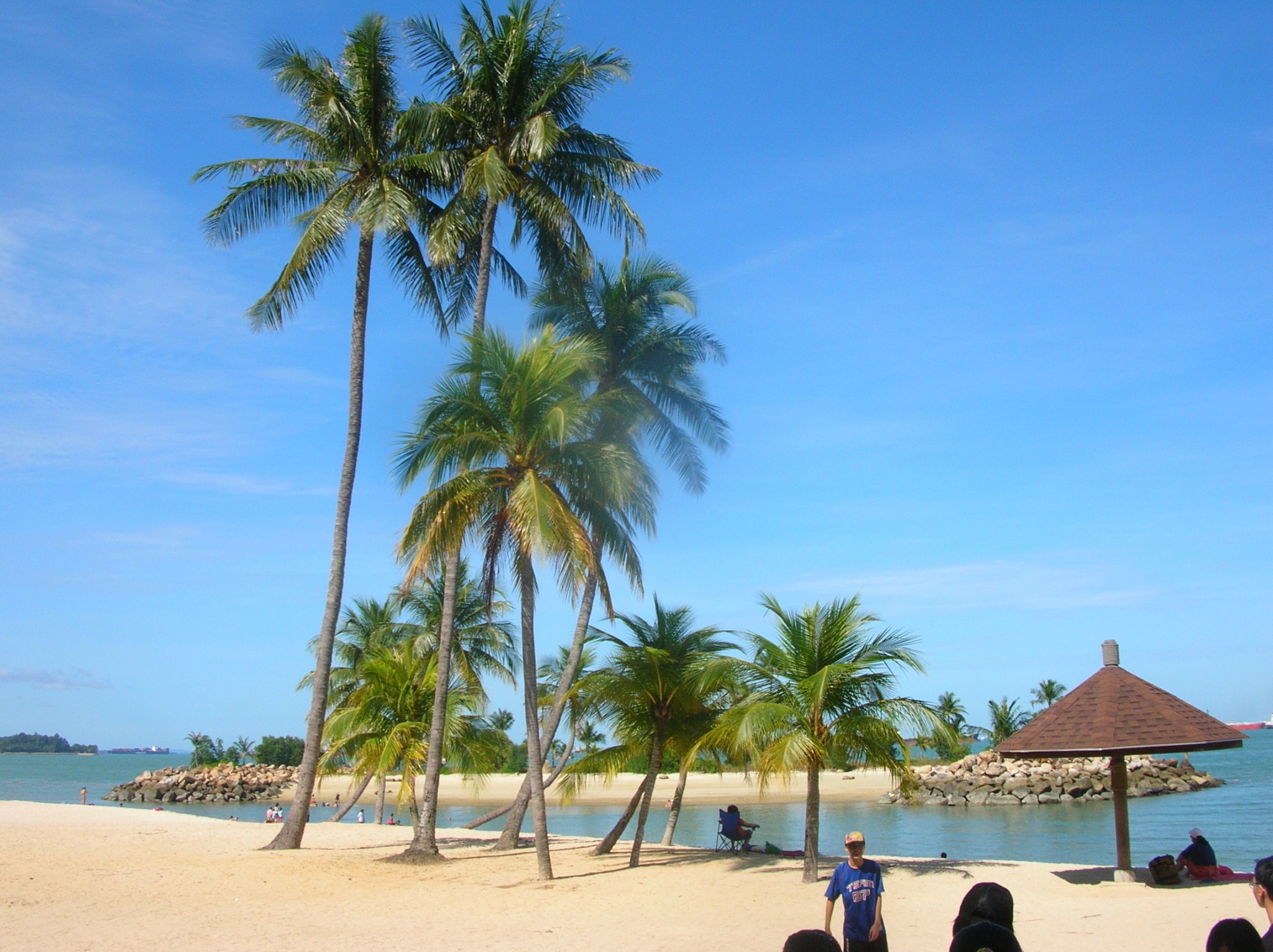 Another great way to bond is to head to Sentosa. Grab a frisbee, a volleyball, pack a picnic mat and some sandwiches, and you're pretty much set! Psst… Tanjong Beach is apparently the most tranquil beach out of the three!
Sentosa Beach
Date: Opens daily
Time: 24 hours
Venue: Sentosa, Palawan, Siloso & Tanjong Beach
Price: Free entrance till 31st Dec 2020 if you walk in via the bridge from VivoCity
Here's 20 exciting things to do at Sentosa!
2) Watch a movie under the stars
Why spend money to buy a movie ticket when you can watch one for free? Pack a picnic basket to watch movies outdoors, courtesy of events company Movie Mob. There are various screenings of latest movies around the islands, usually on the weekends. The last one was at Rail Mall, where they showed local movie "Ah Boyz to Men".
Outdoor Movie Screenings by MovieMob
Date: Ongoing, check the website for dates.
Time: 730pm onwards
Venue: Ongoing, check the website for dates
Price: Free!
Find out the other fun and free things to do in Singapore here!
3) Shop at the Singapore Really Really Free Market (SRRFM)
This one is for the shopaholics!  Everything here is given away for free, held in a temporary market that encourages vendors from all walks of life. Anyone can set up a stall or share your skills! Previous sessions of SRRFM event had people giving free haircuts.
Too many shoes to count? Give them away here – your trash may be someone's treasure. Gather your friends to man the stall and make some new friends as you give things away. Reduce, reuse, recycle, with an extra helping of bonding time. The best things in life are really priceless.
Singapore Really Really Free Market
Date: Ongoing, check Facebook for dates
Time: 9am-5pm
Venue: Various venues
Price: Free
Check out more upcoming flea markets for the best cheap finds in Singapore!
4) Marvel the vastness of the Solar System at the Science Centre's Observatory
Bring your friends to wish upon a star or gaze through a telescope to pick out the star! The Singapore Science Centre Observatory allows you to see the dazzling constellations in the night sky. However, in December, stargazing is paused as the Observatory focuses on solar observations. Marvel the sun's astrological greatness without burning your eyes by viewing it through their extensive collection of telescopes.
Singapore Science Centre Observatory
Date: Ongoing, Fridays
Time: Depends on sightings, check website for details
Venue: The Observatory, Science Centre Singapore
Price: Free
5) Walk along Singapore's heritage trails and rediscover our past
If you have friends who are #fitspo and you are just a surviving couch potato, then aim for somewhere in between – a walking marathon, but a more sophisticated version of it. Strap on your chosen device of pace monitoring, put on your walking shoes, and use your phone to navigate your friends and yourself on one of National Heritage Board's 30 walking trails. With extremely clear instructions and write-ups about various landmarks along the trail, you'll burn calories AND learn about Singapore at the same. For free!
Singapore Heritage Trails
Dates: On your own time
Time: On your own time
Venue: Various venues
Price: Free
6) Check out events and workshops at the Esplanade
There are usually many free art performances and workshops at the Esplanade. For instance, in January, you can grab a couple of your friends to drop by a self-guided workshop at the Esplanade to make bookmarks. With cute designs and templates, you'll create a bookmark for yourself, or for your loved ones. While you're at the Esplanade, why not check out some free music or dance performances as well?
The Esplanade
Dates: Dependent on event calendar
Time: Dependent on event calendar
Venue: The Esplanade
Price: Free
Going solo? Here are some of our suggestion on things to do alone in Singapore!
7) View artworks at the National Gallery
If you're a Singaporean or a Permanent Resident, do take advantage of the free entrance and visit this beautiful gallery. Home to our former Supreme Court, it houses a huge collection of local and regional artworks. The permanent exhibition Siapa Nama Kamu? Art in Singapore since the 19th Century is particularly interesting as it takes you through Singapore's history through the eyes of the artists living then. While it may cost more if you're bringing a friend from overseas, do ask about the discounts. As of writing this, SIA pass holders and DBS card holders enter for only $10.
The National Gallery
Date: Tuesday – Saturday (closed on Sunday and Monday)
Time: 10 am – 7 pm (Mon – Thurs, Sat), 10 am – 9 pm (Fri)
Venue: National Gallery
Price: Free for S'poreans and Permanent Residents; $20 for non-S'poreans
8) Admire artwork at Raffles City
While on the topic of art, if you're already visiting the National Gallery, you might as well make a trip to Ode to Art. Many artworks are displayed there for sale, but it is free to browse. The current artist on exhibition there are art pieces by Christian Pendelio at art gallery Ode to Art. Using watercolour, the artist retells his interpretation of the world through symbolic representations of metaphors and allegories. Whimsical, colourful, and otherworldly, enjoy these art pieces and then have lunch to reflect on them together.
The Ode to Art
Venue: Ode To Art, 252 North Bridge Road, Raffles City Shopping Centre, #01-36E/F
Dates: Ongoing
Time: 11am-9pm
Price: free
9) Learn about inventions at the Science Centre
The Science Centre may be far, but it's a worth a trip to see the permanent exhibitions there. Phobia, The Science of Fear brings you on a journey using science to understand the psychology of various phobias. Another exhibition, Butterflies Up Close, lets you witness the fascinating metamorphosis of a butterfly from a caterpillar.
Exhibitions at Singapore Science Centre
Date: Ongoing
Venue: Science Centre Singapore, 15 Science Center Rd,S609081
Time: 10:00am to 6:00pm (Last entry at 5.30pm)
Price: $12 adult, $8 child
10) Stamp your visit at the Singapore Philatelic Museum
Here at the Singapore Philatelic Museum, visit the Heritage Room to see the stamps of yesteryear. Through stamps and other visual images, you can piece together the history of Singapore's early traditional trades, cultural festivals and music from the past to the present. The Room of Rarities is another permanent exhibit to check out – it showcases rare stamps from Singapore's postal history and will surely provide you and your loved ones hours of discussion.
Singapore Philatelic Museum
Venue: Singapore Philatelic Museum
Time: Daily 10:00am – 7:00pm
Price: Adults: S$8; Child: S$6;
Free admission for Singaporeans & Permanent Residents
11) Walk and take Insta-worthy photos at the Henderson Wave
The Henderson Wave is the highest pedestrian bridge in Singapore. Many yogis and super flexible people like to take photos there as the bridge is a curved architectural wonder whose design is inspired by waves. To get there, you have to walk across lush jungle, as the bridge is part of the Southern Ridges Walk, a five-kilometre hiking trail that takes you through three major parks: Kent Ridge Park, Telok Blangah Hill Park and Mount Faber Park.
Henderson Waves
Date: Opens daily
Time: 24 hours
Venue: Henderson Waves, Henderson Road, Singapore
Price: Free
12)  Do a photoshoot at Little India
If your pals are up for it, why not do a series of photoshoot? Check out Little India's most colourful landmark – the last remaining Chinese villa in the vicinity. The exterior is a bright splash of psychedelic colours, and the architecture a mixed influence of both South Chinese and European details. Of course, the many restored shophouses at Little India will provide hours of photoshoot opportunities too. While you're there, read up on the area's history and educate your friends too!
The House of Tan Teng Niah
Date: Opens daily
Time: 24 hours
Venue:The House of Tan Teng Niah, 37 Kerbau Road
Price: Free
13) Have a brunch buffet in this garden-themed Korean cafe
This cafe is aptly named 'Walking on Sunshine', and once you step inside, you'll see why – it's lushly decorated with flowering plants and oak furniture; you literally feel like you're walking on sunshine.
What's even better is their buffet brunch menu, which has soup, salad and mains at just $15 per pax!
Of course, this is not just a cafe – it's also a Korean beauty saloon that does both hair and nails. Here with your girlfriends? Get the express manicure for $15. Gentlemen, if you're waiting for your lady, why not get a free manicure? Have some spare cash for a new hairdo? Pop over to their saloon for a wash and blow.
Walking on Sunshine Cafe
Date: Daily
Time: 9 am – 12 pm
Venue: Walking on Sunshine Orchard Central, 181 Orchard Rd, #03-07
Price: $15 per pax for free flow brunch (GST included, drinks not included)
14)  Tuck into a Michelin-star meal for less than your MRT fare
If you've been living under a rock, now's the time to get out and tuck into a Michelin star meal. This is the most affordable Michelin star meal in the world, so bring your friends, your parents, your in-laws, your nieces…and treat them, if you feel generous. For a budget of $15, you should be able to feed a group of six, drinks included!

Liao Fan Hong Kong Soya Sauce Chicken Rice
Date: Opens Daily
Time: 10am – 5pm
Price: $2
Venue: Liao Fan Hong Kong Soya Sauce Chicken Rice & Noodle (nearest MRT: Chinatown)

15) Get active at mall workouts
As part of the move to get Singaporeans up and going, there are many mass sports activities organised by the Health Promotion Board at various malls. These happen weekly, and run the gamut from yoga to kickboxing. Best of all, they're free!

Mall Workouts around Singapore
Date: Dependent on event calendar
Time: Dependent on event calendar
Venue: Various malls, check website
Price: Free
Check out the other free workshops and classes to try out a new hobby!
There you have it – 15 different ways to stretch your cash! Now go ahead and put 2019 to good use for more bonding time with your loved ones!
Let us know if there are any events or things to do that you think should be featured. Follow us on Facebook and Instagram and tell us which event you're going to attend! Download the free app here. #bescenesg
If you're an organiser and want us to check out your event/ workshop, drop us a line at hi@bescene.sg